Suzhou Industrial Park Institute Of Service Outsourcing (苏州工业园区服务外包职业学院)
Address: 99 RuoShui Street, Dushu Lake Higher Education Town, Suzhou Industrial Park, Suzhou, Jiangsu, China (苏州市工业园区科教创新区若水路99号)
Website: http://eng.siso.edu.cn/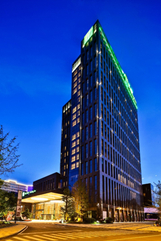 Initiated in Feb, 2008, and established in April, 2010, Suzhou Industrial Park Institute of Services Outsourcing (SISO) is a fulltime public higher education institute funded by Suzhou Industrial Park Administrative Committee (SIPAC). Located in the Innovation Industrial Park of Dushu Lake, SISO has completed its 30-hectare campus with 220,000 square meter floor spaces.
In 2014, SISO fully satisfied Jiangsu Provincial Vocational Higher Education Appraisal with its quality management and high academic standard. In 2015, SISO was made by the Education Bureau and the Financial Bureau as the Exemplary Vocational College in Jiangsu Province, which launched the school onto the higher development track towards "China's first and best service outsourcing college with extensive international connections".
Recommended Hotels
To be added.
Note: 1. The registration fee does not cover the accommodation. It is suggest that an early reservation be done because of peak season.

2. The hotel will not contact any participants for hotel booking, and please be careful when anyone asks you to provide your credit card information to reserve room for you.